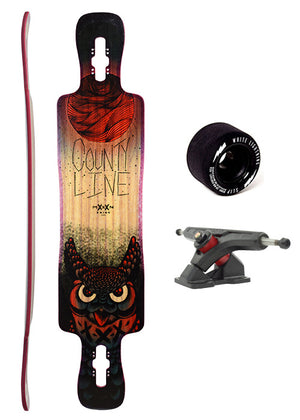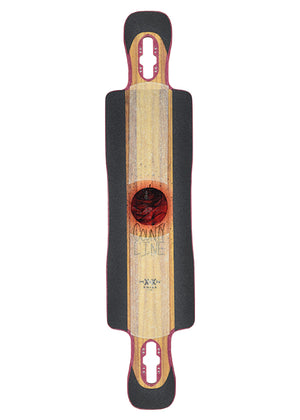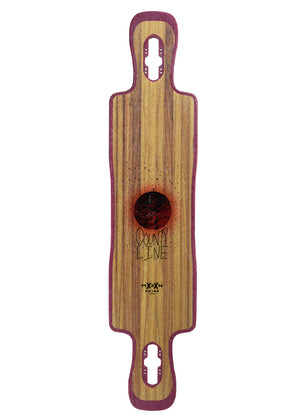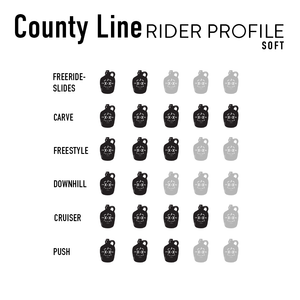 Product image 1

Product image 2

Product image 3

Product image 4

Product image 5

The County Line is a drop through carver, made for multiple riding styles and ample comfort for your longest session. Our drop-through truck mounts and wide platform with extended tip/tail kicks provides greater edge control, foot placement options and balance. The urethane truck mount provides vibration dampening in all riding conditions. This cambered deck with subtle concave features a soft flex pattern perfect for riders under 140 lbs., or riders that prefer a more flexible ride. 
County Line Soft Complete Set-up: White Lightning 65mm 82a SLIP Wheels, Arsenal 165mm 50° trucks, hardware, custom County-Line griptape, bearings + spacers w/ FREE Riptide Sports 87a Krank Tall Cone bushings pair. Not pre-assembled.
SKU" 28008000

Dimensions: 43.75" x 9.5"
Wheel Base Options: 30.5" | 31.25"
With Moonshine MFG you get: 
• Waterproof deck sealed from the elements 
• Light, strong vertically laminated wood construction
• No delam, no warping, no twisting 
• Impact resistant urethane rails- fear no curb 
• Precision machined truck mounts 
• Exclusive 30-day performance guarantee