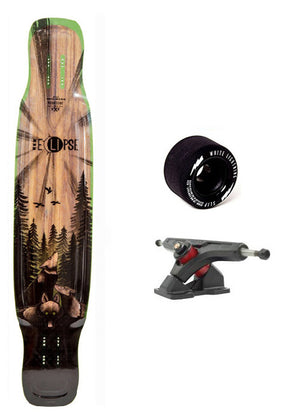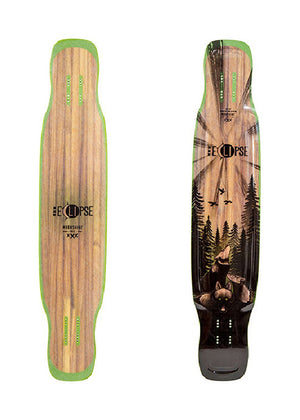 Product image 1

Product image 2

Product image 3

The Moonshine Mfg Eclipse was designed from the ground up for riders seeking a perfect balance between longboard dancing and freestyle performance.  Specifically designed to push the progression of longboard dancing and freestyle riding.
The Eclipse's rockered platform is stable and intuitive. The slight wheel-flares keep your feet on the platform and signify a natural transition from the standing platform to the kicks. Its symmetrical design makes it versatile and effortless. We designed the kicks to be steep and wide to offer a lot of support for learning and mastering new tricks. The smallest wheelbase provides a very stable, predictable, and effortless pop, reminiscent of a much smaller board. The longest wheelbase provides stability for steps and a more aggressive pop with increased air time.
In addition to our bomber two-ply vertically laminated wood core, the 100% waterproof Eclipse is reinforced with fiberglass and carbon fiber patches in the neck to give the board consistent flex, torsional stability and strength under foot - important factors for a board of its length. 
The Medium Flex option is designed for riders under 150 lbs, or for riders that prefer a more soft ride.
Our complete set-up comes equipped with Arsenal 180 50 degree trucks, White Lightning 65mm SLIP Wheels, hardware, bearings, spacers and an extra set of RipTide Krank 87a Tall Cone bushings in case you are looking for even more flow. Not pre-assembled.
Features:
NEW - Stepped design grab rails – this new design provides extra grip and weight reduction for added confidence during aerial maneuvers. They transition from their deepest towards the flares to barely noticeable in the center of the deck to provide added traction where you need it while maintaining stiffness in the belly of the board.
NEW – Grip-less top deck - our all new top surface keeps you locked in without the need for grip tape. We engineered this surface to be about 50% as grippy as our standard grip tape, enabling more free-flowing foot movement. For those looking for more traction, no worries! Grip tape sticks great on top.
Sku: 2200101000
Dimensions:  46" x 9.3"
Wheel Base Options: 29.75 | 30.50" | 31.25"

With Moonshine MFG you get: 
• Waterproof deck sealed from the elements 
• Light, strong vertically laminated wood construction 
• No delam, no warping, no twisting 
• Impact resistant urethane rails- fear no curb 
• Precision machined truck mounts